Bean Together
Mobile App Design
Project Overview
The primary goal of this project was to create an interactive platform that connects and informs both parents during a pregnancy equally.

Initial Challenge
In my research I found very limited resources dedicated to the non-pregnant partner. By creating a platform where both parents can find relevant information to support their own experience of the pregnancy, they can in turn better support each other.

Proposed Solution
An application that is supportive of both parents throughout a pregnancy. The unique value is present in the app's ability to create a safe place for both partners to feel involved and important.

Other apps focus primary on the pregnant partner's experience. By giving the non-pregnant partner a safe platform to voice their questions and concerns, they can feel more involved and responsible during the pregnancy.

Role—Research, Writing, Art Direction, Designer
Timeline—2 months
Tools—Figma, Illustrator, Principle
Brainstorming + Workshops

This project was completed during my time in university. To expand on our intial ideas and gain insight into each others projects, we did, Crazy 8s and, How Might We workshops. After presenting my idea to my classmates, they completed an How Might We workshop and made suggestions based on opportunities they saw for my project. Some key take-aways included:


︎︎︎ Be inclusive to all genders going through a pregnancy?
︎︎︎ Incorporate community support from experienced fathers?
︎︎︎ Keep both partners informed about pregnancy related appointments?
︎︎︎ Create a platform that connects both partners involved in the pregnancy?
︎︎︎ Make the non-pregnant partner feel involved?
︎︎︎ Create a unique experience for each partner?
︎︎︎ Provide a safe space for the non-pregnant partner to voice their questions and concerns?

Each classmate also participated in completeling a Crazy 8s workshop. The suggestions that came through helped to focus the features of my application. Some key take-aways included:


︎︎︎ Having a list of emergency contacts and birth plan in the app
︎︎︎ Creating a journal for photo and text entries
︎︎︎ Including a craving list that can be shared between partners
︎︎︎ Giving each parents the option to personalize their experience

Low-Fidelity Wire Frames

To begin the design process, I created a series of low-fidelity wireframes. This step allowed me to push out many ideas for the structure of the app quickly and in-preciously.

At this point I was able to identify how the app would flow together. Most importantly, this phase lays the foundation for how users will interact with the interface.

Mid-Fidelity Wire Frames

The next step was to create mid-fidelity wireframes. By creating a mid-fidelity prototype I was able to get a better understanding of how the design system should implemented. It also allows for flaws in the system to be revealed before the high-fidelity design stage.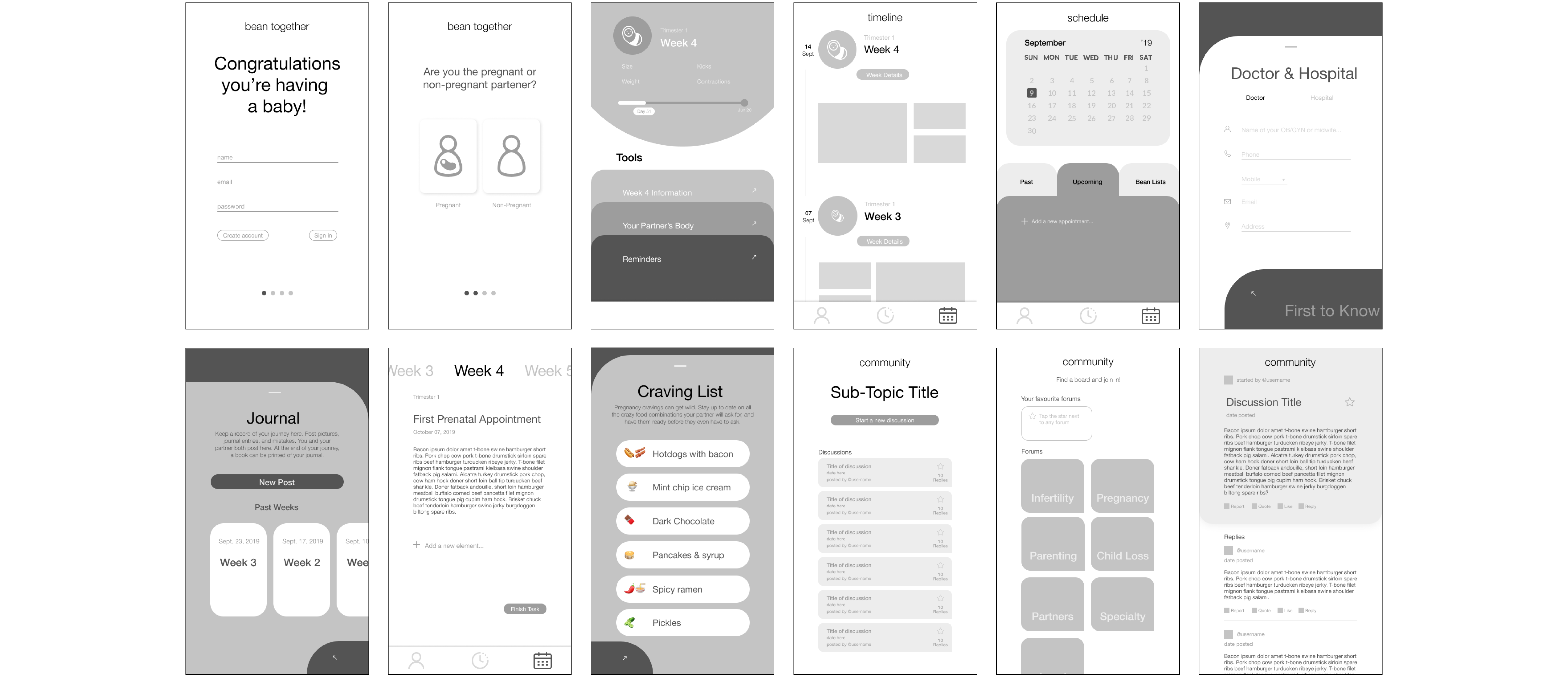 Final Screens + Animations

The final step was to bring the app to life through high-fidelity mockups and animations. Creating the app in full colour with all type and layout specifics implemented, brings the project to life. It is also at the stage the users can test the functions of the app as it would truly appear. The app has four main functions which are displayed below.

WEEKLY INFORMATION
Stay updated with curated weekly information.

Know exactly what to expect when you're expecting with our weekly guides.

Understand exactly what your partner is going though and how you can support them through it.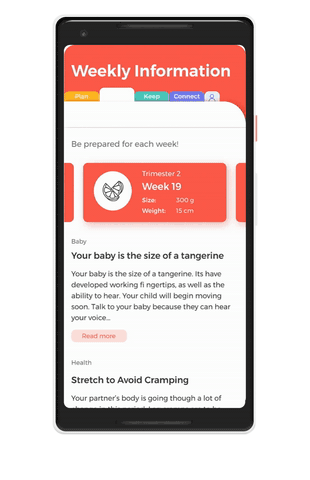 JOURNAL
Create a timeline of your growing family from the earliest moments.


Strengthen the bond between you and your partner by working together to create a journal of your pregnancy term.
COMMUNITY FORUM
Connect with the Bean Together community.

Connect with other users and share your experiences. Ask questions, share ideas and get answers from couples like you.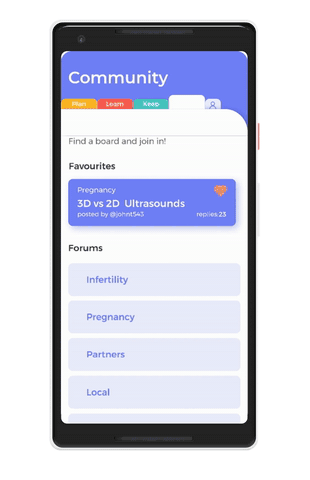 CALENDER
Keep track of all your pregnancy appointments.

Connect with your partner's account to perfectly sync your calendars. Get updates and notifications about all upcoming appointments.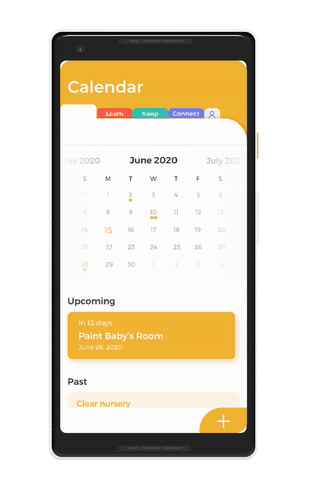 UI Kit + Design System

A guideline for the app's design and aesthetic direction. Specifics about typography, colour and layout are all considered.
Project Takeaways

Designing an app for pregnancy was a huge challenge that I learned a lot from. I have never gone through a pregnancy myself, so I could not rely on any personal insights to design. Doing extensive research about what pregnant users would want from this app was crucial.

If I were to come back to this project, I would refocus it on the Journal feature. After some time away from this project I can see that the Journal feature of this app is the most successful. Being in the pandemic, many babies have been born, but family members are unable to be apart of the child's life the way they would have been in the past. Having a place where family and friends can follow the couple through their pregnancy and also see the child after it is born, would be very helpful.

Marketing Website
The creation of a marketing site helped realize the app and brought the project to life.
View the marketing website
here