Box of 6ix Social Presence
Social Media Content Creation

Box of 6ix is a subscription box service based in Toronto. It started in July 2020 as a response to the COVID-19 pandemic. By featuring products from exclusively small businesses, Box of 6ix offers an additional way for the local economy to thrive.

Starting in February 2021, my role has been to refresh the social media direction to better match the Box of 6ix brand. The biggest challenge was to find a way to promote products from various brands, while ensuring the Box of 6ix brand voice was prominent.

Roles—Art Director, Graphic Designer, Photographer
Tools—Figma, Photoshop
Founder—Kat
Copy Writer—Andrea
Art Direction & Graphic Design
The Box of 6ix brand is honest, cheerful and relatable. Small businesses need a platform for their voices to be heard and Box of 6ix allows for multiple stories to be shared. The lifestyle photography promotes featured products in a genuine way while graphic posts present the Box of 6ix brand voice.

Every month, different Toronto-based artists are featured on their social media. They also highlight the people behind the brands they partner with in a series called, "Meet the Owner". The Box of 6ix brand voice shines in these posts. The bold colours and friendly typeface connect viewers with the loveable brand.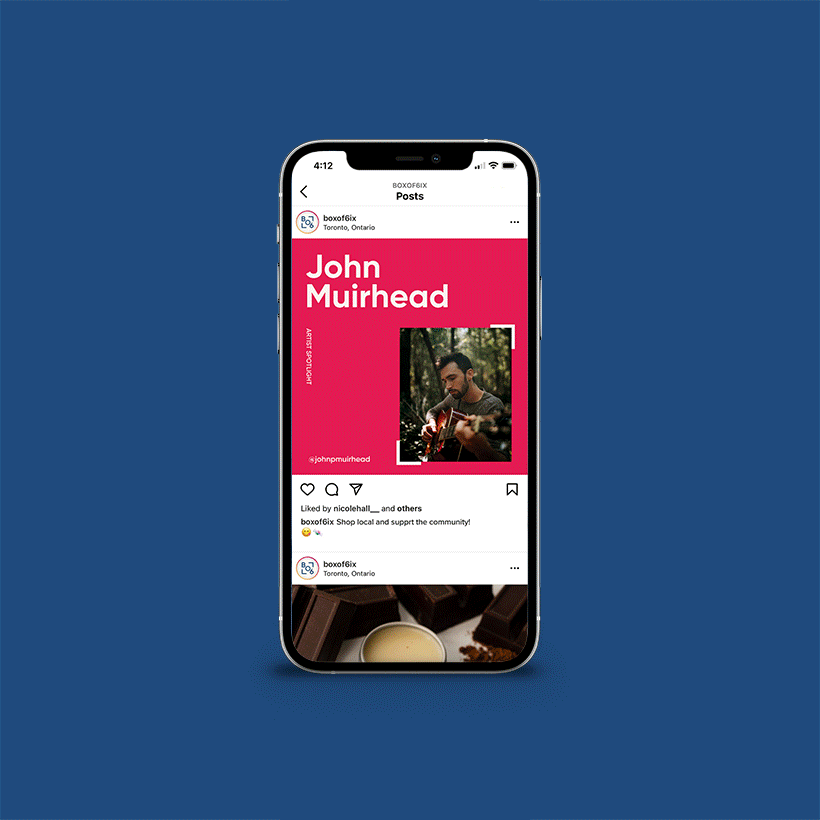 Product Photography
My role as photographer and art director is to produce all of the product photography for Box of 6ix. These images promote the items featured in their monthly boxes. The tone of the images are bright, warm and neutral. Box of 6ix is all about authenticity, so the images are staged in a lifestyle approach. To create cohesion amongst many different brands, the lighting and backdrop are kept consistent and minimal props are added for context. This allows for the products being showcased to really stand out as the focus of the images.