In Conversation with Violet96
Publication

Questioning the gaze through which we view the world is an important part of redefining the system which has created harmful stereotypes. Media such as film, photography and advertising have conditioned us to view women as objects to be desired by men. I was curious to understand if the way women are represented in the media affects their experiences in the real world. In order to address the actualization of the male gaze on the female body, I interviewed and photographed a woman who used Seeking.com–a sugar daddy/sugar baby dating site–to pay for her education.

The book asks the viewer to have empathy for an otherwise taboo topic. I aimed to create a simple and intimate experience for the reader. The story is set in three typefaces: ITC Tiffany, Circular and Georgia, which were carefully considered to match the tone of the interview. The paper colour and stock change throughout the publication, to signal new sections and for high quality photo reproduction. The book exists in an edition of one. I designed, printed and bound the book by hand.

Roles—Research, Design, Writing
Tools—Indesign, Photoshop

Typefaces—ITC Tiffany, Circular, Georgia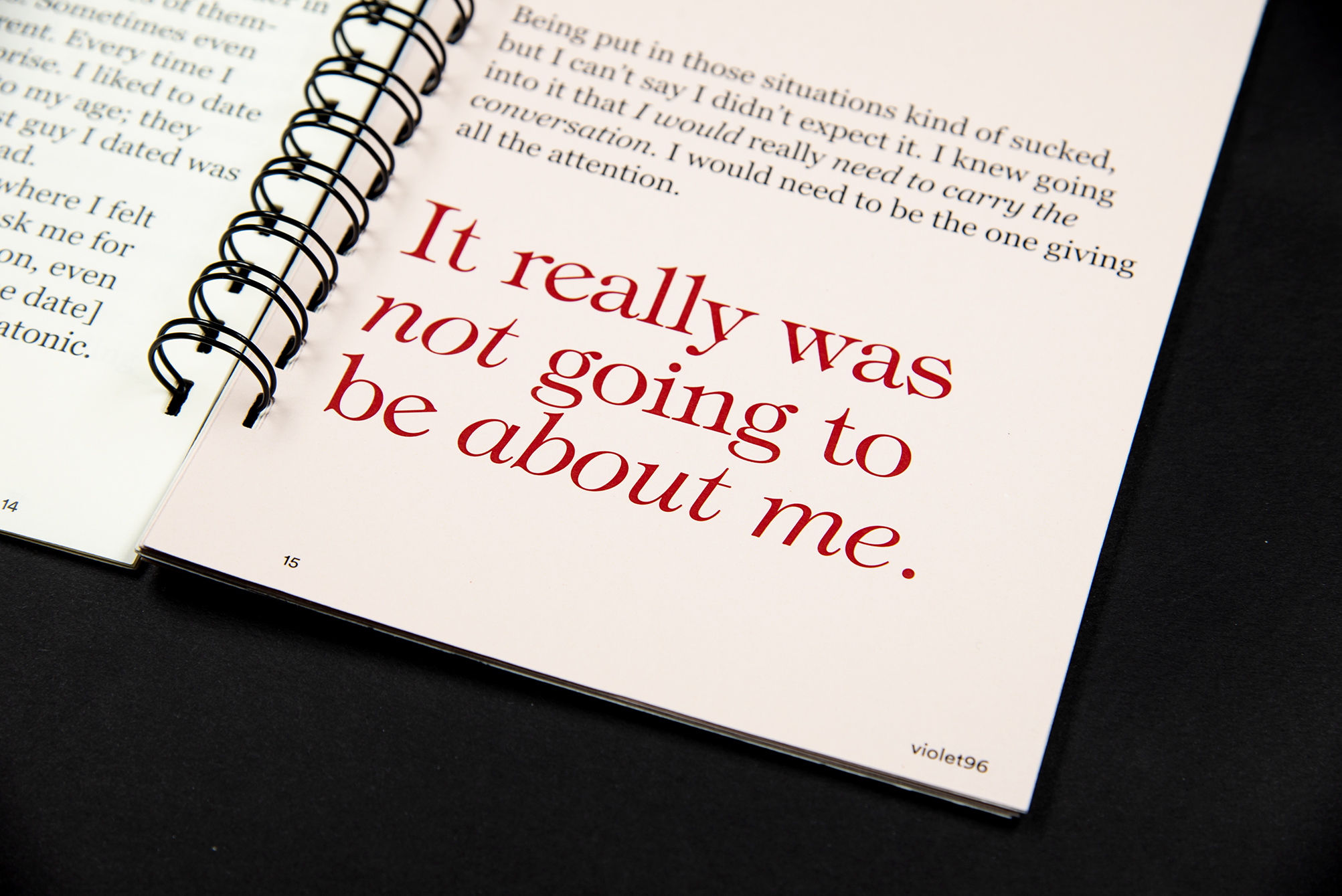 Story Telling


The sensitivity of the subject matter required my being very gentle with the subject's willingness to share her story with me. To avoid inflicting my own biases onto her story (as best I could), I conducted multiple rounds of interviews to properly understand her experiences. I printed her words exactly as she said them in order to allow her to tell her own story. The interview was the central element of the book, so I took great care in using typography to elevate the message. Large type and highlighted quotes invite viewers to read her story and understand her experiences.