Nomade Festival

Brand Identity, Content Creation
Nomade is a traveling festival that brings together women in outdoor adventure seeking a community of support and empowerment.

Development of Visual Identity – The design process involved creating three distinct directions for the branding: representational, abstract and symbolic. The final direction was chosen because of its uniqueness and its ability to be applied to other branding media recognizably. The final poster combined the strongest imagery, typography and colour from all three posters.

Sustainable Applications – Nomade Festival is an outdoor adventure festival. Choosing sustainable materials in an effort to preserve natural landscapes was a large priority when designing tickets, press passes and festival schedules.

Roles
Researcher, Branding, Art Direction, Photography
Tools
InDesign, Photoshop, Illustrator, Laser Cutter, Vinyl Cutter, Heat Press
Representational
Abstract
Symbolic
Wristbands

Nomade Festival takes place outdoors in the wilderness, so it was important for the tickets to be able to withstand the elements and adventure. I created a wristband with a custom bar code for attendees where within the festival grounds. The bracket is made of wood and rope. It is a keepsake and plastic free!



Schedule
It was important for the form of the schedule to be unique to Nomade Festival. A schedule-at-a-glance was created for each festival goer in the form of a bandana. It had to be easily accessible but not something festival goers would have to hold in their hands. A bandana can be worn during the festival and can withstand all the elements. It is also an awesome souvenir for attendees to bring on future adventures.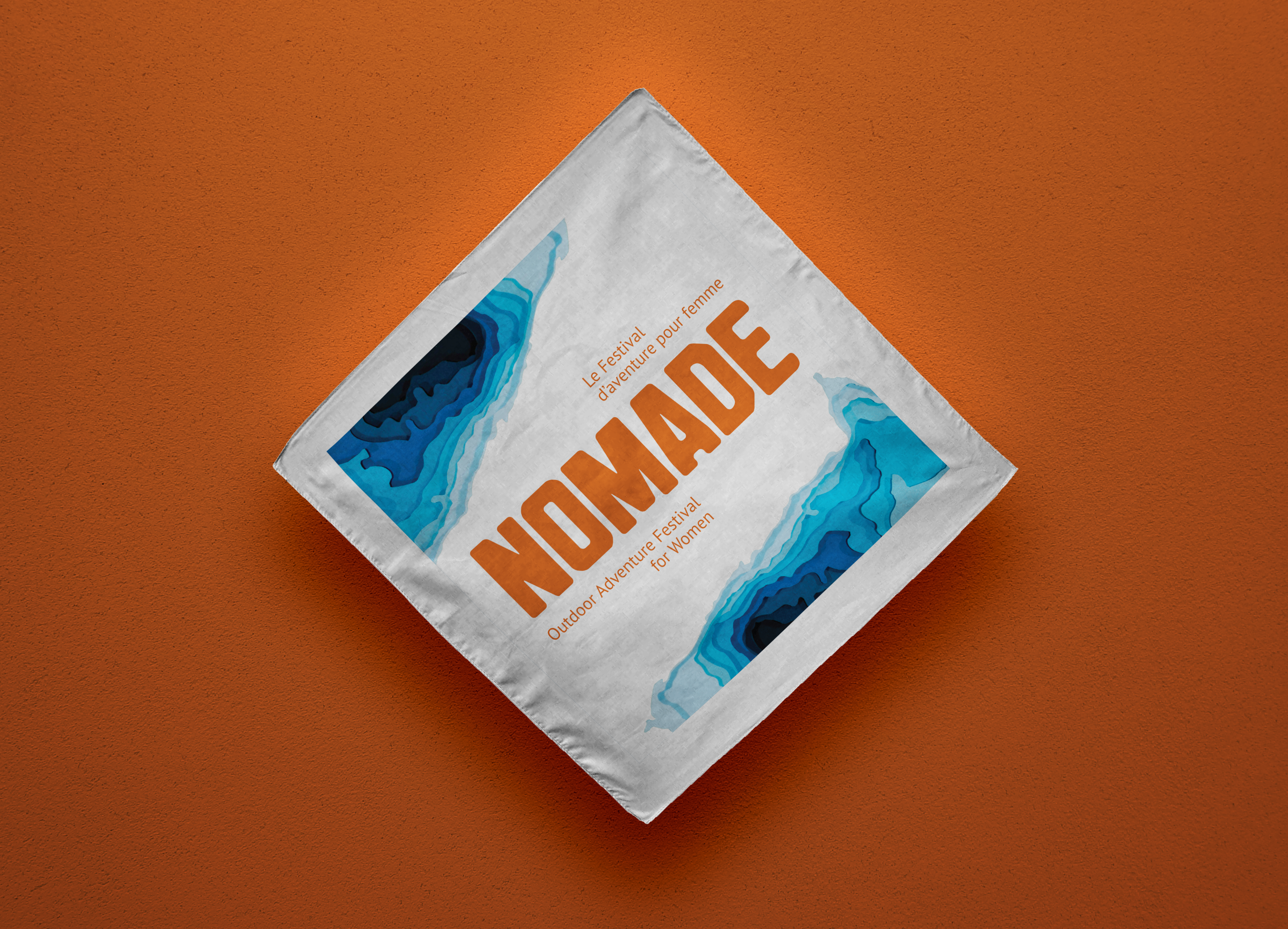 Press passes
The press passes needed to be able to withstand the elements while also being plastic free. I settled on creating patches made of 100% cotton, that instructors, guides, media staff and volunteers can pin to themselves as they engage in outdoor activities.

Website

A place for festival goers to get all the information they need before attending Nomade Fest. It can be toggled between English and French.


Digital Ads
Adversiments in English and French displayed on travel and adventure websites as well as Instagram.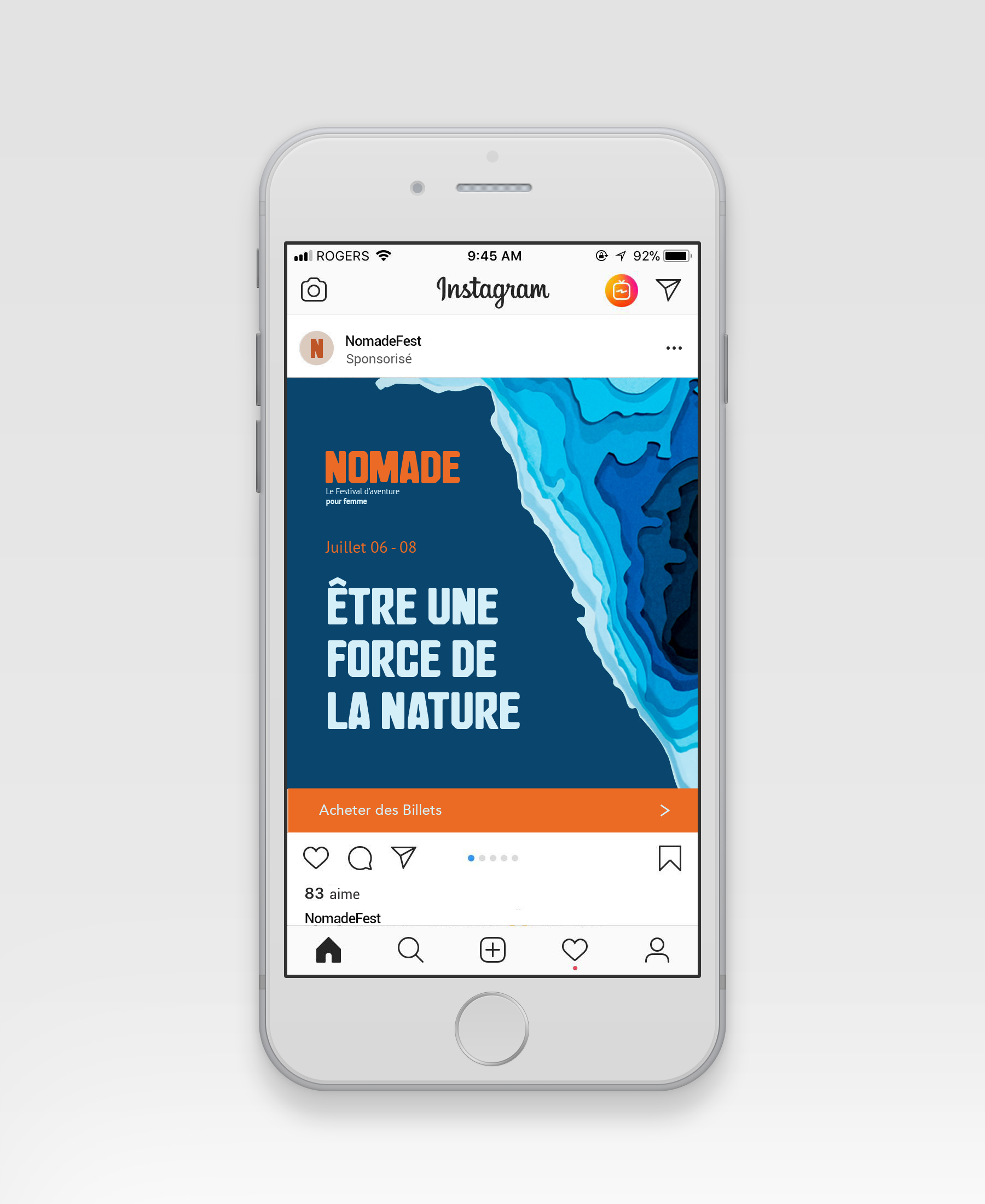 And It Would Always
Be The Same
Photobook, Photography Series
I photographed the series, And It Would Always Be The Same, in Richmond Hill and Toronto, Lake Shore, during several visits between January and March 2020. I explored the way photography as a tool can be used to showcase the value of everyday life. This series of photographs was created using the empathetic female gaze to capture my grandparents in their daily lives.

And It Would Always Be The Same, looks at the way lives of two retired couples can be captured beautifully without adding anything to their story, simply photographing what is there in a compelling way. I do not stage my subjects; instead I spends days with them and photograph them as they live.
Roles
Photographer, Designer, Producer
Tools
Indesign, Photoshop, Lightroom, DSLR


The photography project culminated in a book, with a story by Canadian writer Alice Munro. I carefully selected the story to compliment the photo series and add to the story being told within the photographs. The type treatment was deliberately considered to match the tone of the writing. Different paper stocks and colours were used to communicate an overall experience when engaging with the book. I was important for all the elements of the book work together to deliver a honest, thought-provoking experience for any reader.
The Feeling Gazette
Print Design, Art Direction, Publication
The Feeling Gazette is an artbook aimed at reclaiming the body. It features three aspiring artists, Nicole Samulnik, Dorna Oladi and Samantha Hansel, whose work centres around bringing nudity back into the art sphere. Using the female gaze, they use the frame to share and evolve a sense of being in feeling, rather than looking at their subjects. It prioritizes emotions and the body over actions.

To generate the content I curated the images, participated in creating photography, and conducted interviews of the artists. I also designed the spreads, covers and printed and bound the book by hand.
Collaboration
Nicole Samulnik, Dorna Oladi
Roles
Designer, Photographer, Writer, Producer, Curator
Tools
Indesign, Photoshop, Lightroom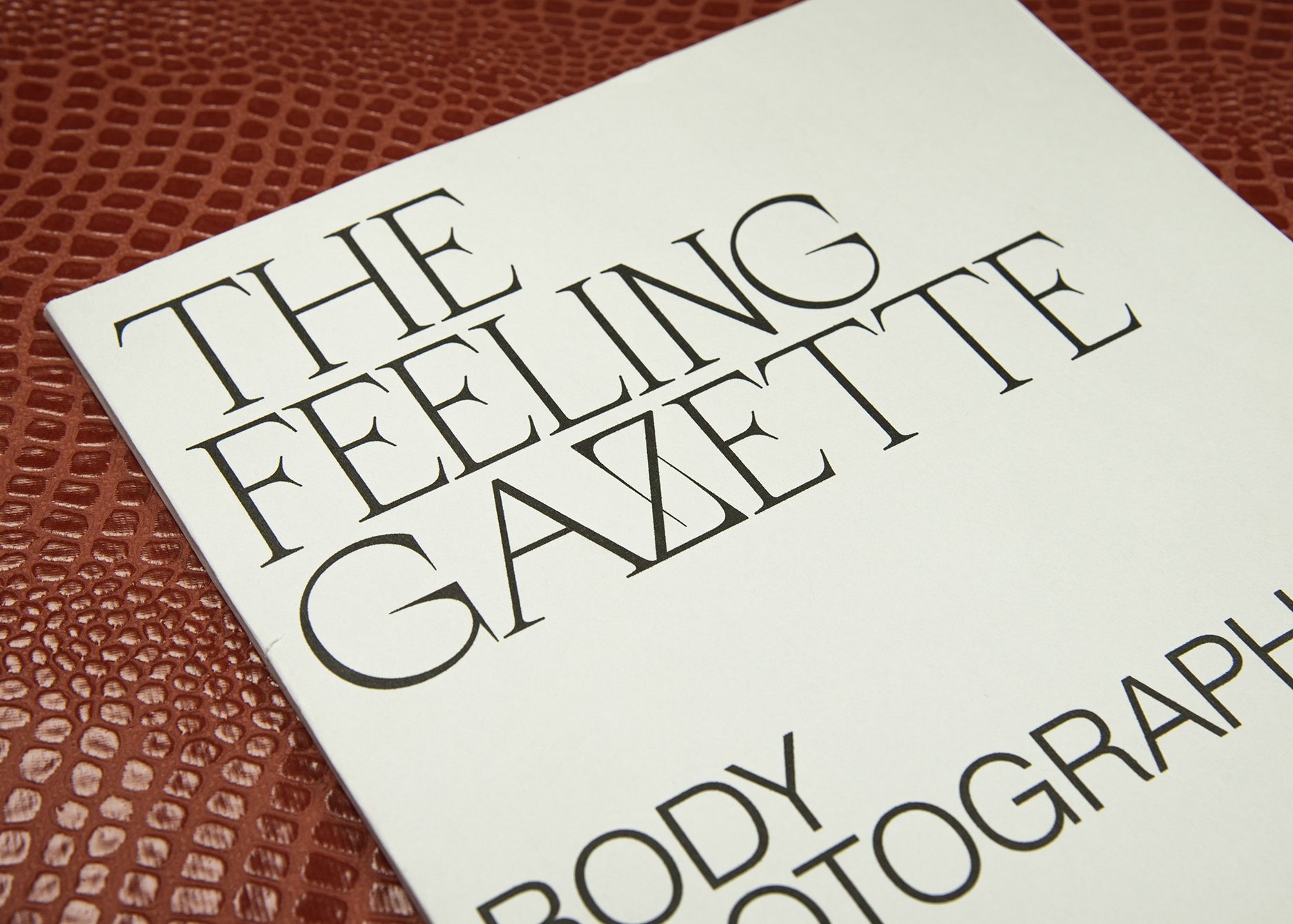 In Conversation with Violet96
Research, Book Design
Power imbalances exist between men and women. I interpret that part of the problem stems from the way we have been conditioned to view women through media such as film, photography and advertising. Questioning our gaze is an important part of redefining the system which created harmful stereotypes.

In order to address the actualization of the male gaze on the female body, I interviewed and photographed a woman who used Seeking.com, a sugar daddy/sugar baby dating site, to make money to afford her education.

Roles
Researcher, Writer, Photographer, Designer


Tools
Indesign, Photoshop, Lightroom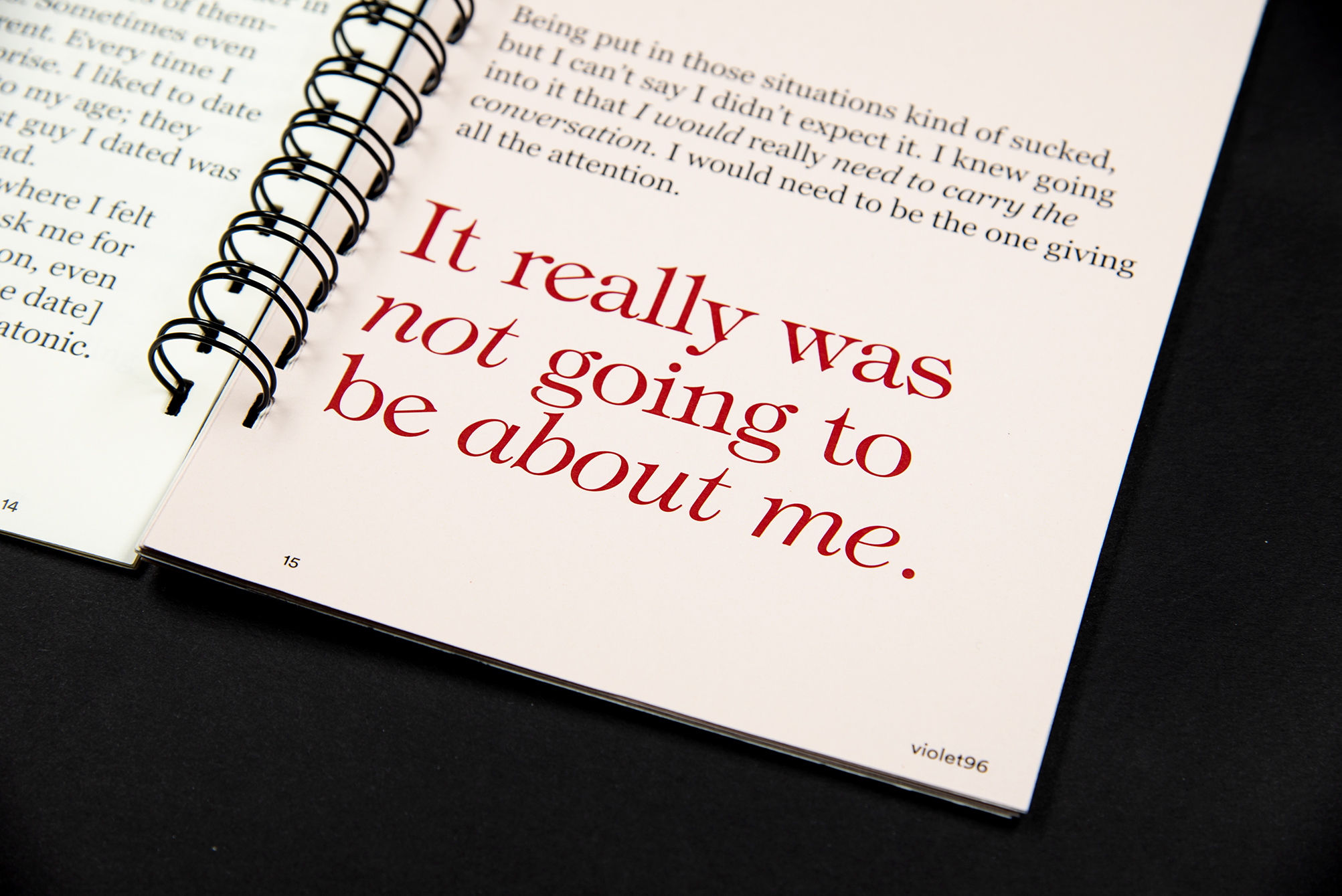 Story Telling
The sensitivity of the matter required my being very gentle with the subjects willingness to share her story with me. To avoid inflicting my own biases onto her story (as best I could), I conducted multiple rounds of interviews to properly understand her experiences. I printed her words exactly as she said them in order to allow her to tell her story.

The interview was the central element of the book, so I took great care in using typography to elevate the message. Large type and highlighted quotes invite viewers to really read the story and understand it.



Conclusion

With this project, I noticed an imbalance in society, and tried to point it out. Design can question the nature of things, and challenge things to be different. Design also has the incredible ability to potentially change the status quo by designing things differently; disrupting the way things are.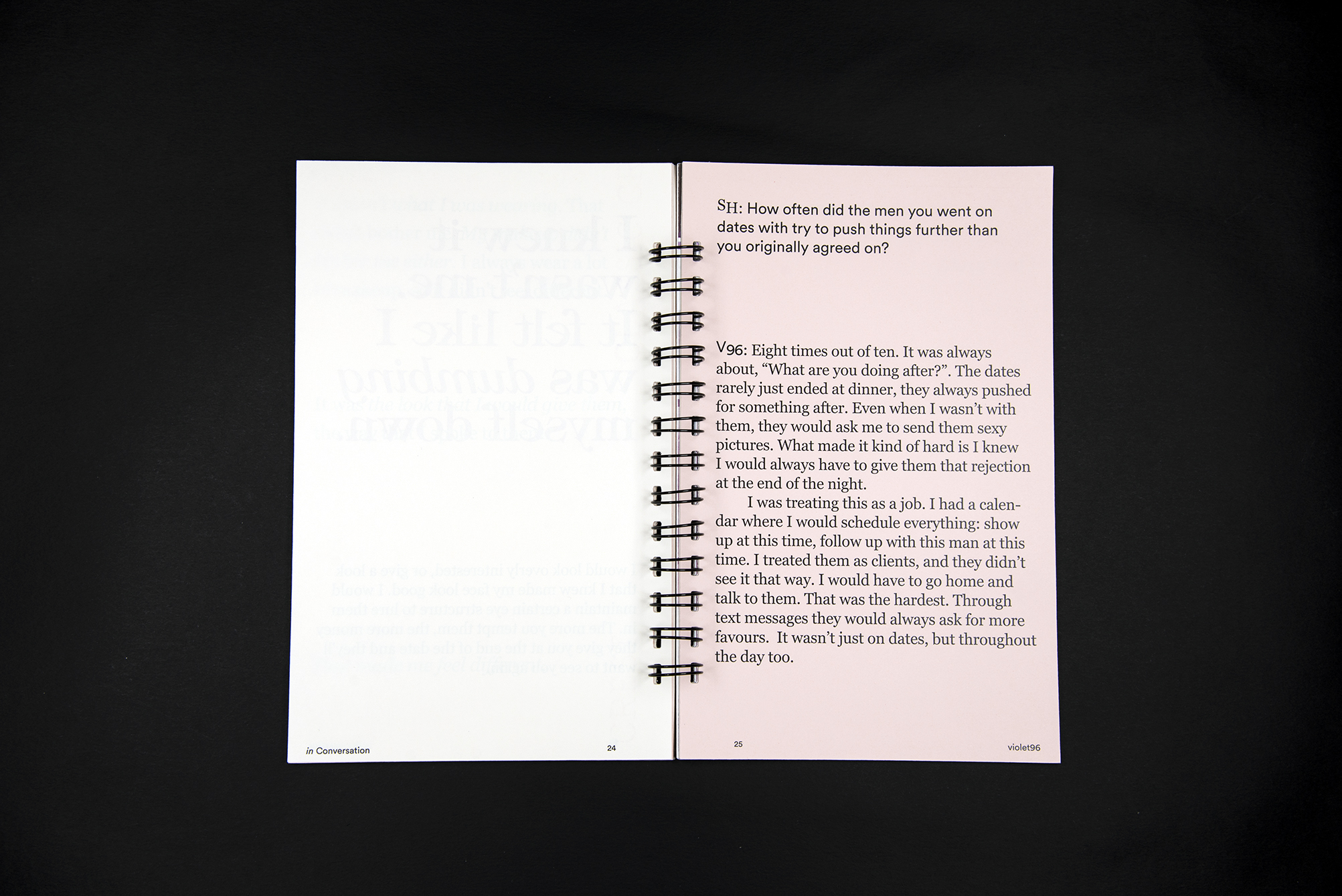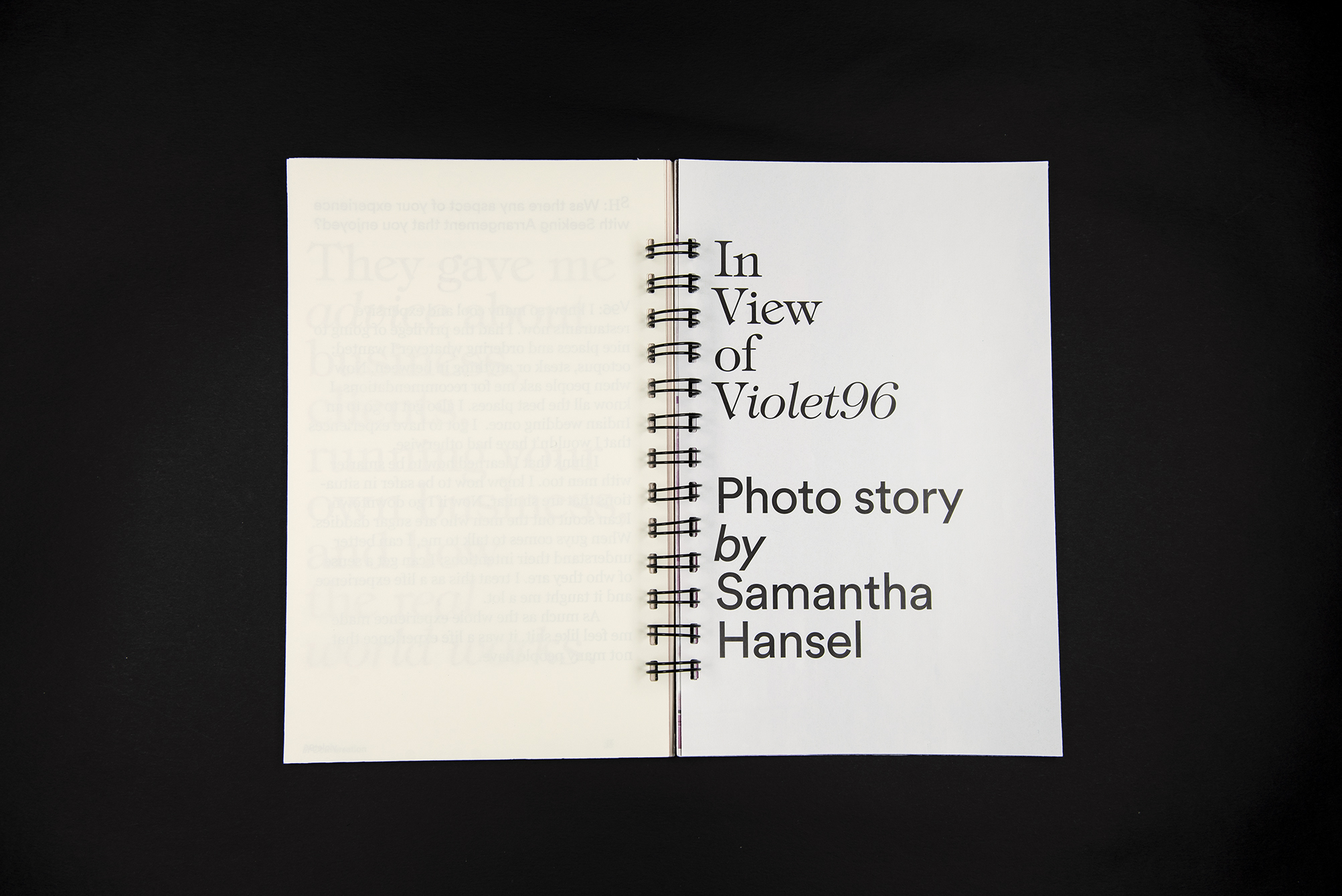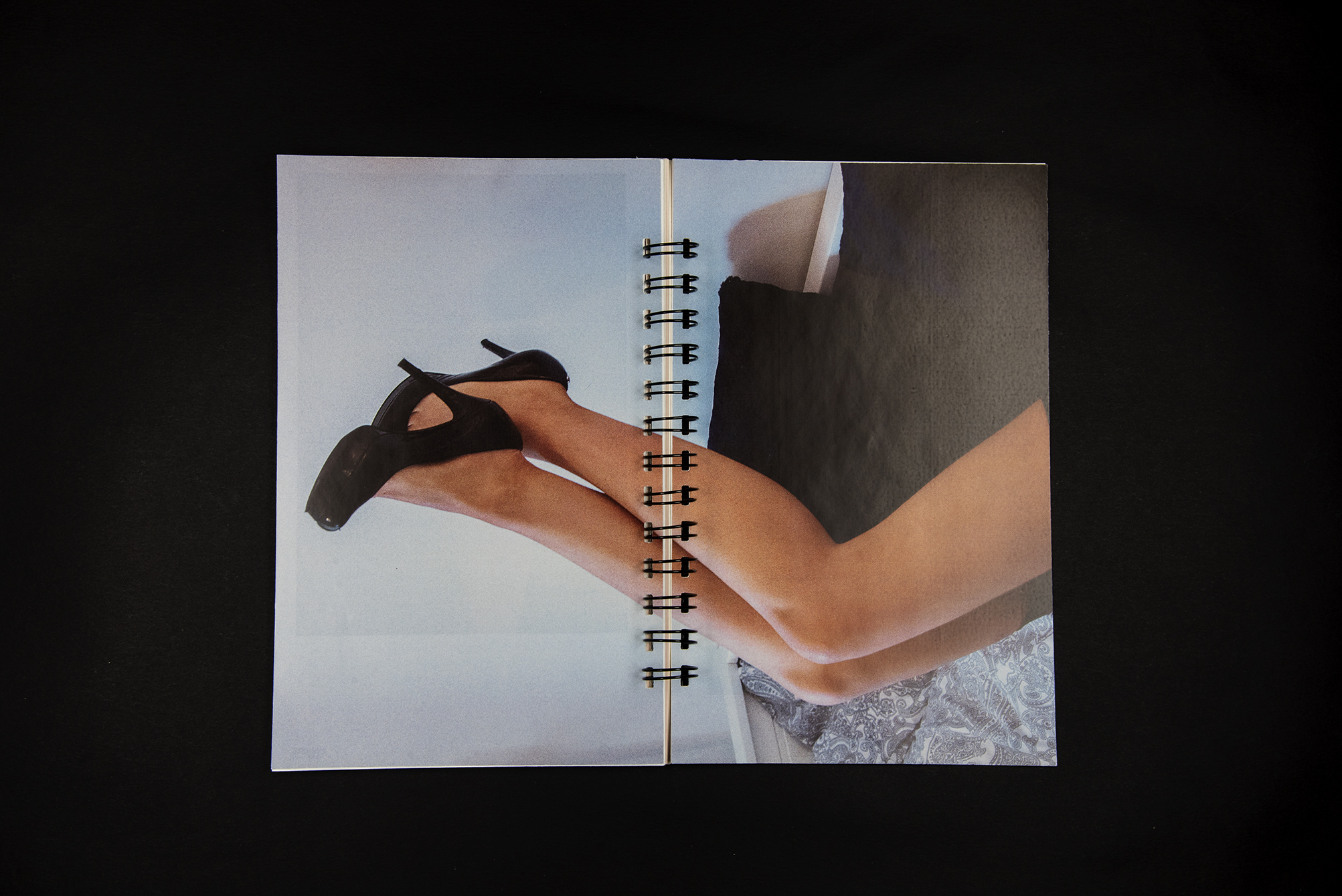 Currently seeking full-time or internship positions.
© Sam Hansel 2020